26. August 2017

26/08/201726

VON cfbayern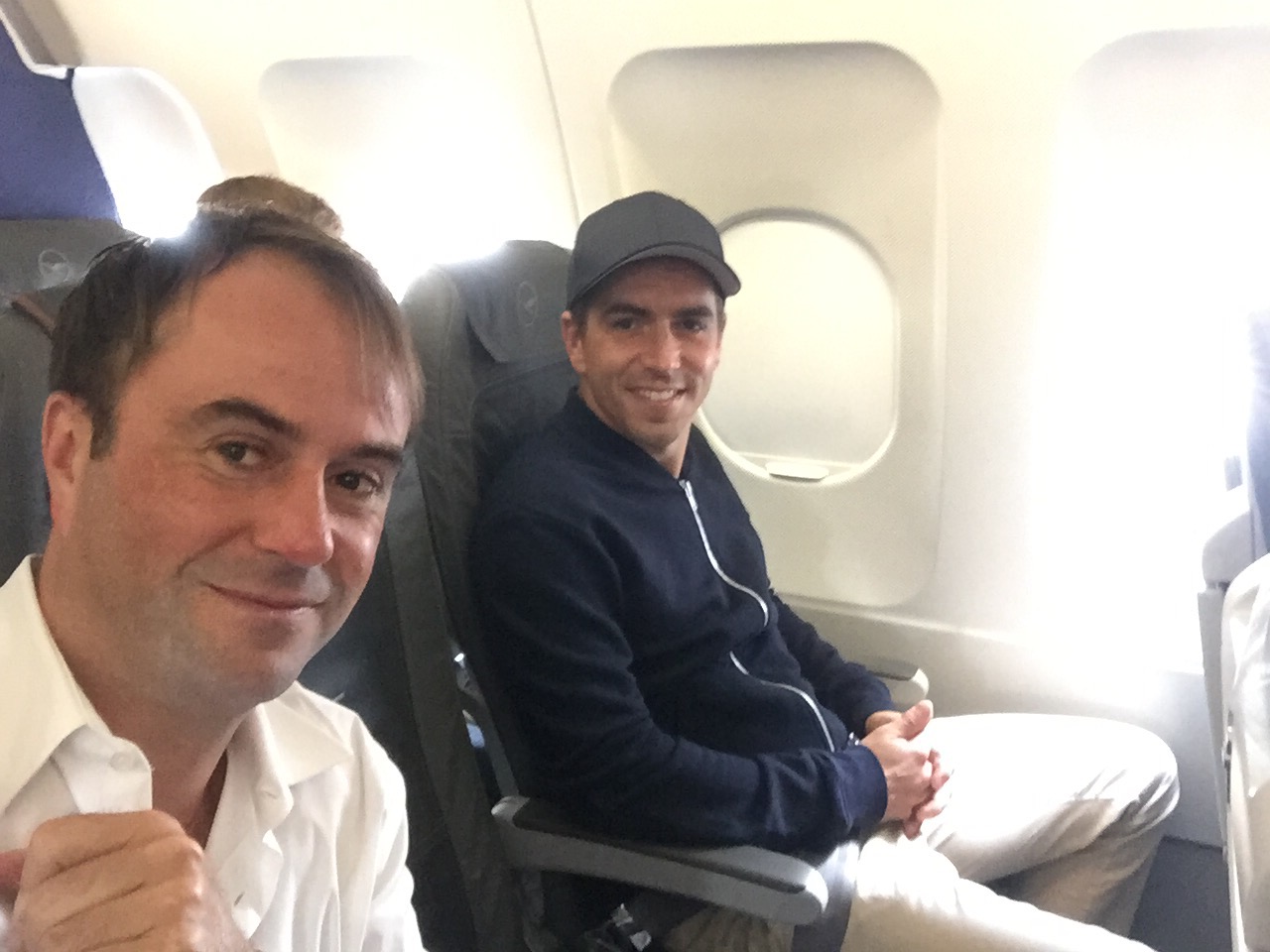 Just a few meters seperate me from the Lufthansa-Lounge when I get a fright by a voice from behind while I was tipping a SMS. "Oh, Mr. Falk ist also on the way to his gate…" Now I recognize Philipp Lahm who put his cap deep into his face. Using the polite form is a quirk of him which Philipp, in my case, uses since 15 years, even though we don't call each other "Sie" for a long time now. I allways caled him "Du", but when he got to the professionas in 2002, he has chosen the respectful form towards the reporter who was a little bit longer in that buissiness. "Sie", he uses for jokes with me before he gets to the "Du"-form. For Philipp it isn't a big suprise to see me at the airport, because I'm accompaining him to our award on Mondayevening in Hamburg: Lahm got elected to the "Star of the year" by the readers of SPORTBILD.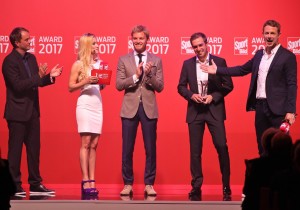 Philipp and I see each other for the first time after his retirement where I said goodbye to him with a handshake the honest words: "It was an honour for me" in the Allianz-Arena. Everything didn't happen a long time ago, so it feels like we're traveling to a Champions-League-match together. The only difference is that I'm sitting in the first row and not like in the Bayern-jet in the last one which was reserved for us journalists. Philipp on 2A, I'm on 2C. The situation was new for us, because usually we had to talk about Bayern Munich or the national team. Today our conversation is about music (we both like to listen to austrain bands) and children (how long it would take us to build up the Playmobil-presents). The subject children is going to be an important one at the award, too.
Before Philipp got called to the stage as second awardwinner by the moderator Alexander Bommes, a short movie with the highlights of his career was shown. The fact that Philipp as a defender never got a red card, still fascinates me. After that came my laudatio which I have produced one week before in Hamburg. At his last press conference as Bayern-pro Philipp Lahm said that at his first substiution in 2002 (90th minute, 3:3 against Lens) nobody of the reporters, which were on this press conference, were on the press places at the Olympiastadium. The laudatio gives me the possibility to show that he was wrong. I can remember very well how I called the editorial department to report about Philipps substitution, what I'am describing right now in the laudatio. Thatfor we had an old phone which was in a metal box and couldn't be moved anywhere. And you could only use it if you had the key for the box.
Behind the stage I'm waiting in the darkness for my companion with who I'm going to bring the award to Philipp: Nico Rosberg is going to give the honour to Lahm, from world champion to world champion. I don't know Nico ver well, yet. While a hostess brings him to me, Philipp is talking abour his two children. Nico is listening attentively and asks me how much time pass after the birth of Lahms second children? When said that it just happend two and a half weeks ago. Beaming with pleasure, Rosberg points at his watch and says: "For me and my wife it could happen nearly every moment." No it's us who are talking abour children. Some moments after that, when we are on the stage, Rosberg just continues to talk about children. He he is happy about the oppurtunity to be able to sleep a whole night in the hotel, just like Philipp. With that jokes he secured the laughs of the audience.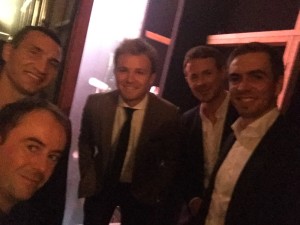 The next time we met, was behind the stage, one hour later. The award cermony is over, now everybody is taking pictures with the awardwinners. Box-world champion Wladimir Klitschko joins us. Philipp who stands on the backside of the stage, which is a little bit higher, laughs about being on the same hight level like Klitschko, so that he can look him into the eyes while they're talking. Wladimir talks with us about: Children, of course.
Three world champions and one reporter and the suprise is that we are not talking about sports. A wonderful moment. But then Philipp says to me: "Now I want a beer, finally." I'm smiling and answer: "Philipp, this is the sentence I wanted to hear since 15 years from you." Then go to the bar to get the first round. Now. The award-party started officially.