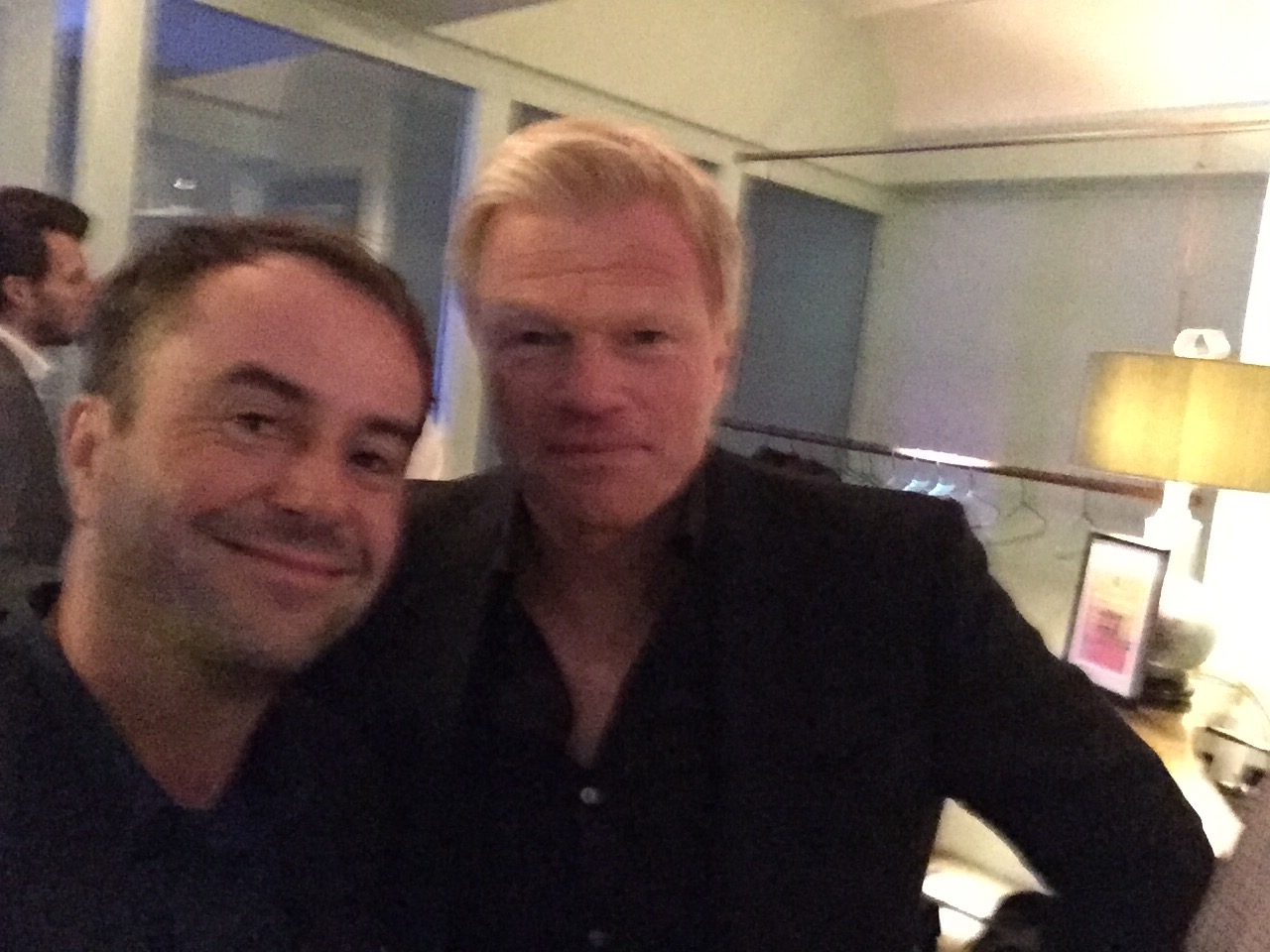 "Christian, you here !", this is how Oliver Kahn, who sits on leather chair in a room of the Herathouse, welcomes me. Kahn and I, we know each other for 20 years now and of course he knows that we have an appointement, but he loves joking. The "Medientage München GmbH" has loan the "Social Room" in the second floor, while in the stockey under us a O30 party was taking place. Oliver has presented his new TV-App for his project "Goalplay" and now he has time to talk to me. The so called "Titan" is chilled, but the sun is distrubing him a little bit. "You know that that is bad trick", he starts the conversation and moves on describing: "You put your partner into the light, so that he is dazzled and doesn't feel good. With that method you can bring the person you are talking with, to say exactly what you want to hear." After he said that he starts to laugh and me of course, too. The atmosphere for our goalkeeper conversation is perfect. To the end I add something what James Rodriguez said to my colleague Tobias Altschäffl in China. He said that Kahn was the first player he had to think of when he heard about Bayern Munich. "It is great to hear that a player like James follows your carreer and tries to orientate on it.", Olli answers a little bit to official, just to add another answer: "Maybe he is super-clever and knows that I am the Champions-League expert for the ZDF. While mentioning the good things, I will also have to critics him." Then his special "Kahn-laugh" comes. With that our time was over, yet. Oliver must go back to his event. In Augsburg, a hotel room is waiting for me, because I'm going to meet my last goalkeeper for my keepers-report. Ron Robert Zieler ( former goalkeeper at Manchester United and Leicester City) on Thursday at the VfB Stuttgart, Fabian Giefer (former goalkeeper at Manchester City and Bristol City) on Friday at FC Augsburg, just like Rene Adler on Tuesday at Mainz 05 (former goalkeeper at Bayer Leverkusen and the Hamburger SV) – I'm going to see and speak at lot of goalkeepers this week. But also in interviews the "Titan" somebody very special.
Newsletter
Werde Informiert über die Aktuellen Themen des FC Bayern und der DFB-Elf!
Melde dich jetzt an!