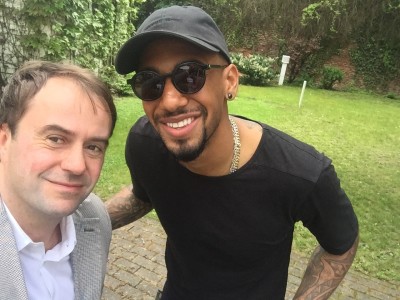 Jerome Boateng made his choice quickly. "La Fontana", an Italian restaurant in Munich, only a few minutes by car from the training-area at Säbener Straße. As I enter the restaurant, I quickly notice why the Bayern-pro has chosen this restaurant. Above the bar there is already a photo of Jerome together with Chef Davide, in the middle of a gallery with other prominent guests like Mark van Bommel, Sebastian Rode and Edin Dzeko. This time we aren't alone at our meeting. Three readers of SPORT BILD have won a meeting with Jerome. The world champion was one of the main prizes in a raffle, including Bayern president Uli Hoeneß, nationalteam-coach Jogi Löw and boxing champion Wladimir Klitschko. The fans will experience Boateng as I've known him for years: polite, reserved and very funny.
Jerome enters the restaurant through the garden terrace, actually he knows everything here. "I'm sorry I'm late, I had to go to the dentist," he says. Everybody buys that explanation, because while everybody is eating pizza and pasta, Jerome may not even order something to drink after his medical treatment. But nevertheless he will have to participate at the training in one and a half hour. Now, however, he takes time for the questions of the fans which are different than the ones the journalists ask. Here, listen expectantly.

The big interview will be published in SPORTBILD on Wednesday. But unfortunately, after such a deep conversation there isn't enough place for all questions and answers in the magazine. Especially the personal ones suit better to a blog…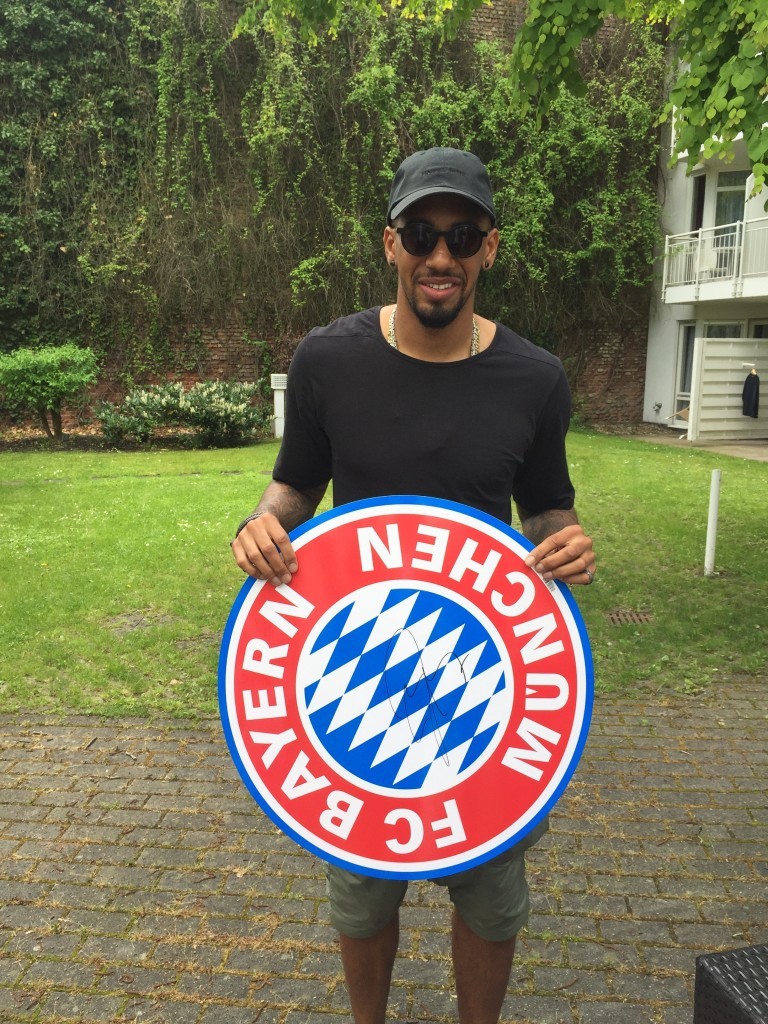 Not many people know that there is a name between Jerome and Boateng in his passport. His second name is 'Agyenim'. What it exactly means, I've never asked him before, but the fans did so."Agyenim is translated as 'The Great' – actually, my parents haven't made a bad choice." Jerome jokes and his laugh shows that he has fun with questions like this. Who are your best friends in the team? Boateng: "I get along very well with all of my teammates, but perhaps I have the best connection with David Alaba and Franck Ribéry." Are you a basketball fan? Do you follow the NBA playoffs? "Sure, I'm an avowed fan of the Golden State Warriors. I know Kevin Durant, I have met him in Berlin before. Once, when they played in L.A., I was in the cabine." Who are your role models? Boateng: "Since my childhood I admire Michael Jordan, perhaps the greatest basketball player of all time. Another idol of mine is Muhammad Ali, not only as boxer, but also as human."
I am impressed. Of Jerome, but also of the fan questions. I know Boateng personally for almost eight years (in October 2009, Jogi Löw invited him to the national team for the first time) – after our lunch a few, completely new sides have been added.
He promises: "Until the start of the season I want to be one hundred percent fit ! "