26. September 2017

26/09/201726

VON cfbayern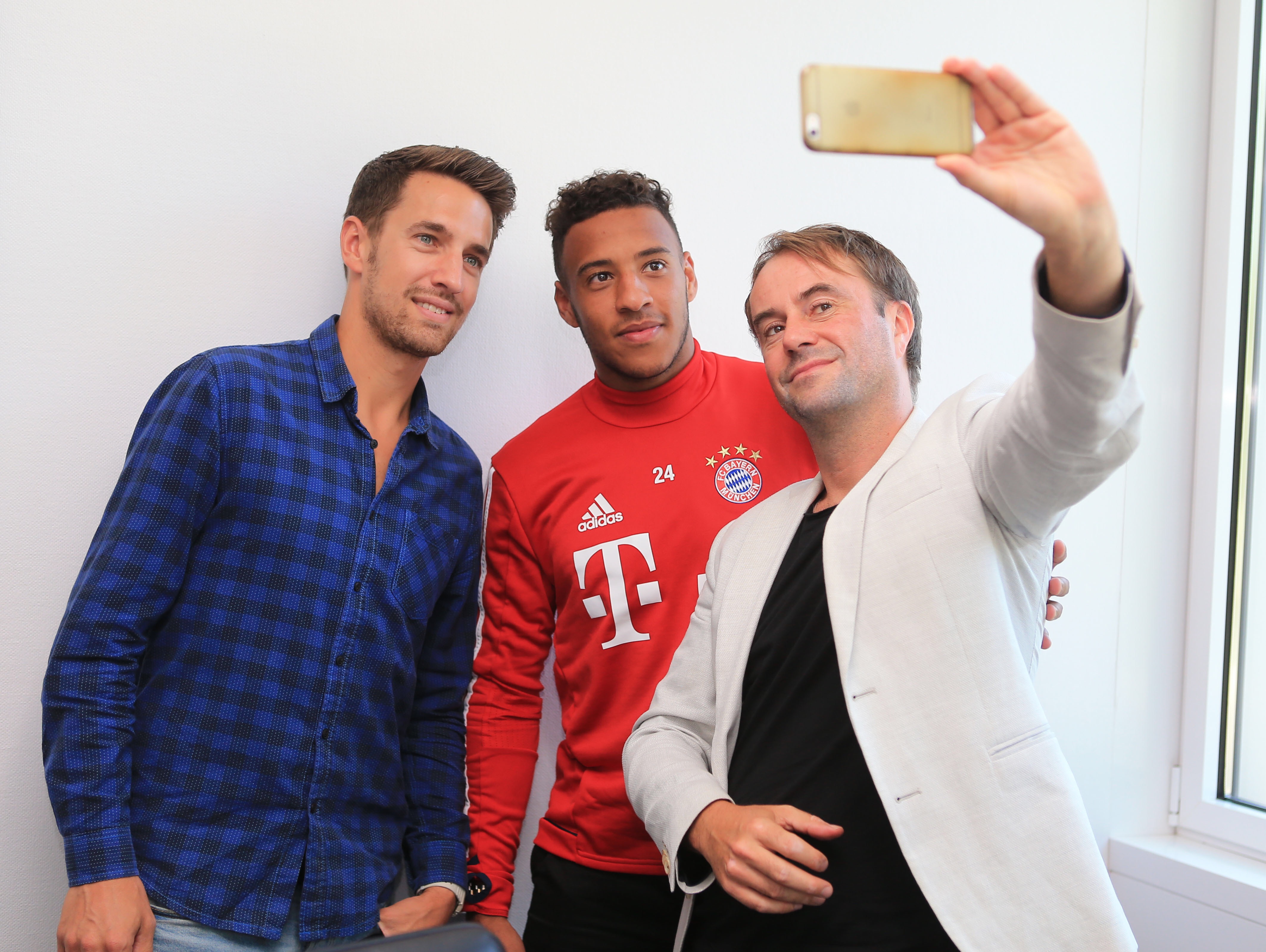 Black shirt, black cap, this is the outfit in which Corentin Tolisso comes to our appointment. A short welcome (for which I used my school French). After that the Frenchman puts a Bayern jersey with four stars over his private top with five white stripes. The sposnor should get his right, too. After that we can start !
The conversatoin starts very slow, because we don't know each other, yet. But that id what we want to change. Who is the man for whom the FC Bayern was ready to spent 41.5 million euros. They never paid more for a player in the whole history of the club.
Everyone who talks about money in football in our times, has also to talk about Neymar and Dembele. Tolisso knows the second, Dembele, from the French national team. He don't want to judge about the behaviour of his friend who protested hisself from Dortmund to Barca. He can't say what he would have done if his dream of FC Bayern would have failed because of transfer veto by his former club, Lyon. Protest? He doesn't know. The more he talks about FC Bayern, the more you see how much he wanted to come to Munich. About Franck Ribery he talks reverently. If he asked the Champions-League winner about his difficult start of his career in his home country? Tolisso wouldn't even try this. He is afraid that it is respectless to ask Ribery such a question.
Tolisso listens to my German, before he got it translated. When he hears the name "Pogba", he listens very interested and repeats the name with a deep Pogba imitation voice. In the social networks you could read that he goes to the same hair stylist like the 120 million man from Manchester United and that he even wants him to fly to Munich. Now Tolisso laughs loudly. He at the star hair stylist? No, that's not right. Right is, that he still goes to the coiffeur from his childhood. I want to know how much a styling sessoin costs. "Quince Euro, 15 Euro!", answers the 41.5 million man. Now we all laugh and I say that my 10-years old son goes to the hair stylist for 27 euros. I will have to discuss about that with the young man…
Tolisso gets more relaxed and satrts to talk about his earlier life in the little French village Thizy. He really wants to bring us near the situation of it. Rhone is the next bigger city the we know. "My grandparents still live there. Also two of my three best friends do so", he continues. He tries to see them as often as he can. How big Thizy actually is ? Now, Tolisso puts his hands o his head and really starts think about it. "I may not say somethind wrong", says the 23-years old professional and describes: "Otherwise I would get in trouble with my mother!" In the end he says 3000, what was pretty exact.
Even a 41.5 million man must hold a report to his mother. In times were the transfer fees get surreal this is something with an calming effect.