23. February 2018

23/02/201823

VON cfbayern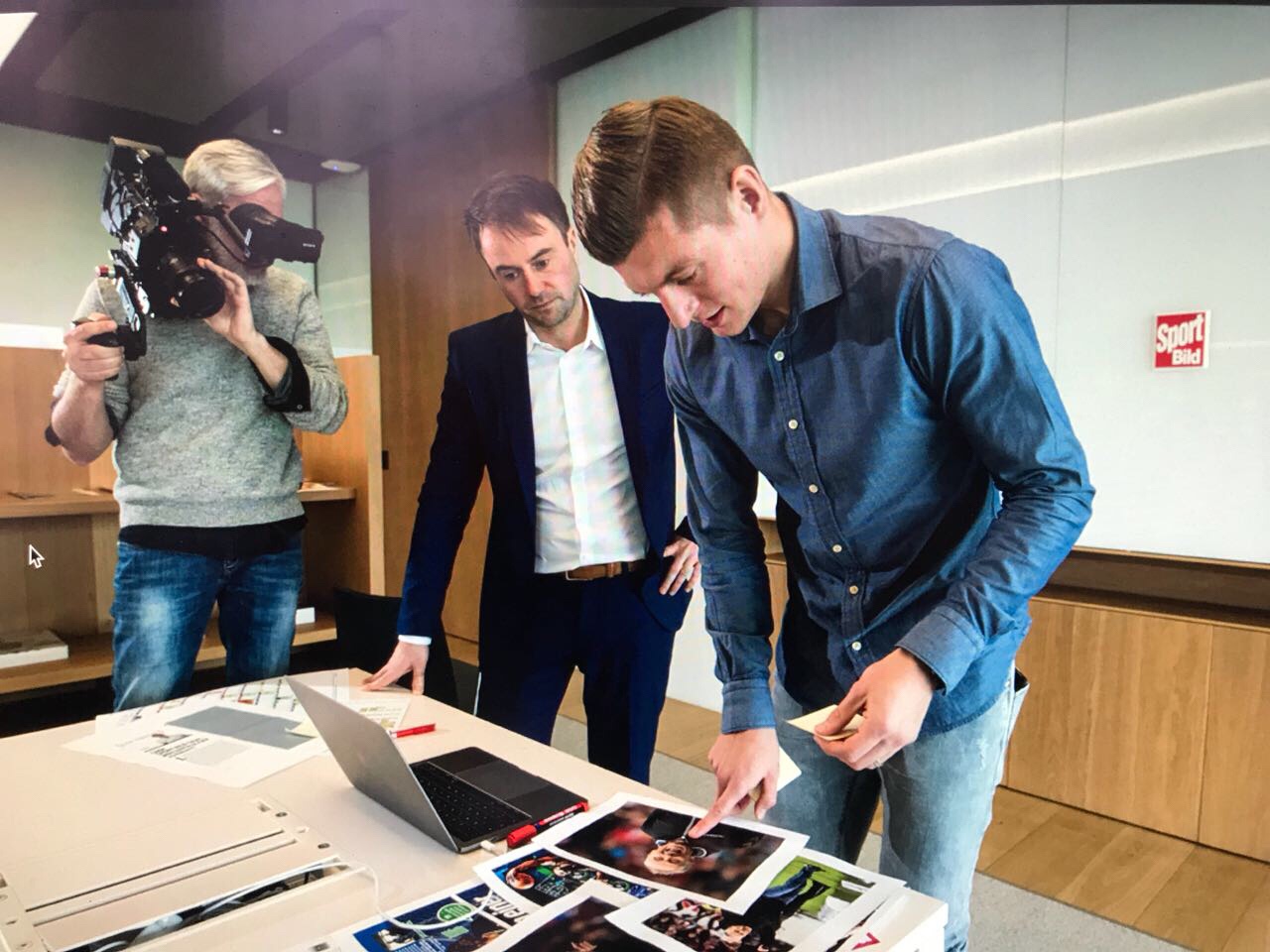 I have known Toni Kroos ever since he made first professional appearance at Bayern Munich eleven years ago. We have enjoyed many interviews and spectacular photoshoots together since then. For example, prior to the 2010 World Cup in South Africa, when Toni was playing for Leverkusen, we had live pythons hanging around our necks in the Bay Arena. We also had another photoshoot with him as the last "Ossi" (people who are born or lived in the former East Germany (GDR) in the German national team). For that we took pictures of him in a "Trabi" (a typical car in the GDR) in front of a wall covered in graffiti. It wasn't the one in Berlin, it was actually in Munich. I wasn't prepared for what happened next – for just a day and one edition only – Toni becomes my boss.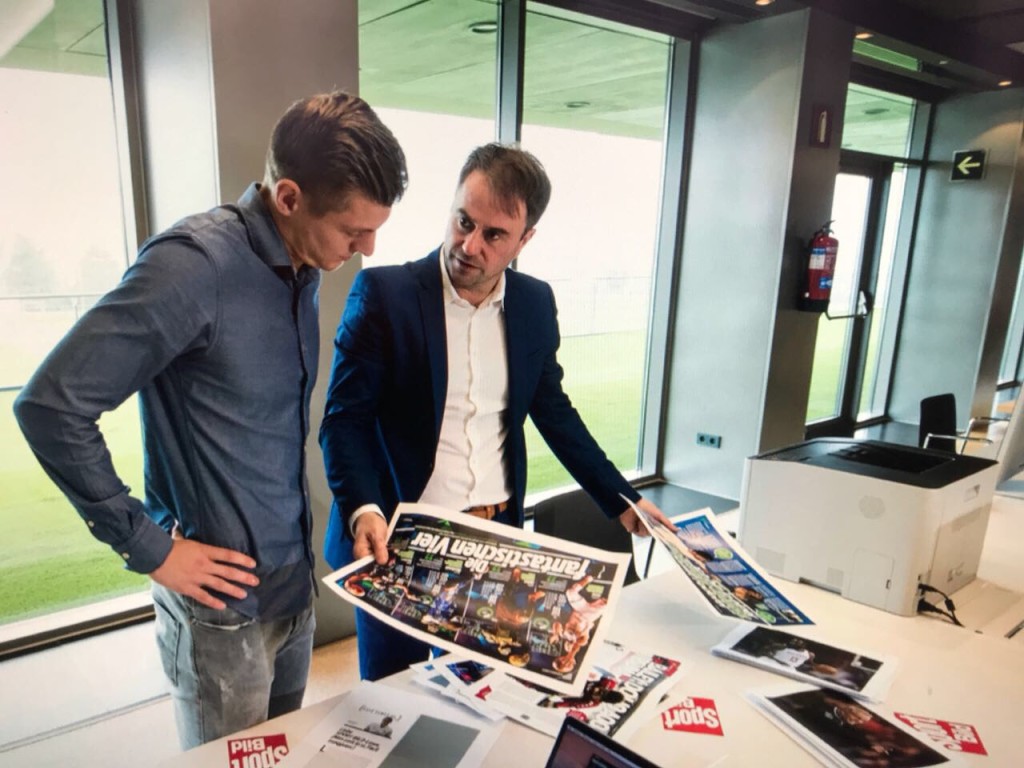 SPORT BILD is celebrating its 30th anniversary this year. This the reason why Matthias Brügelmann, my real boss, has employed Toni Kroos – the only German player to win the Champions-League three times – as the new editor in chief.
I have seen Toni leading the way in midfield for Germany, Bayern and Real Madrid. But how is going to be as my boss?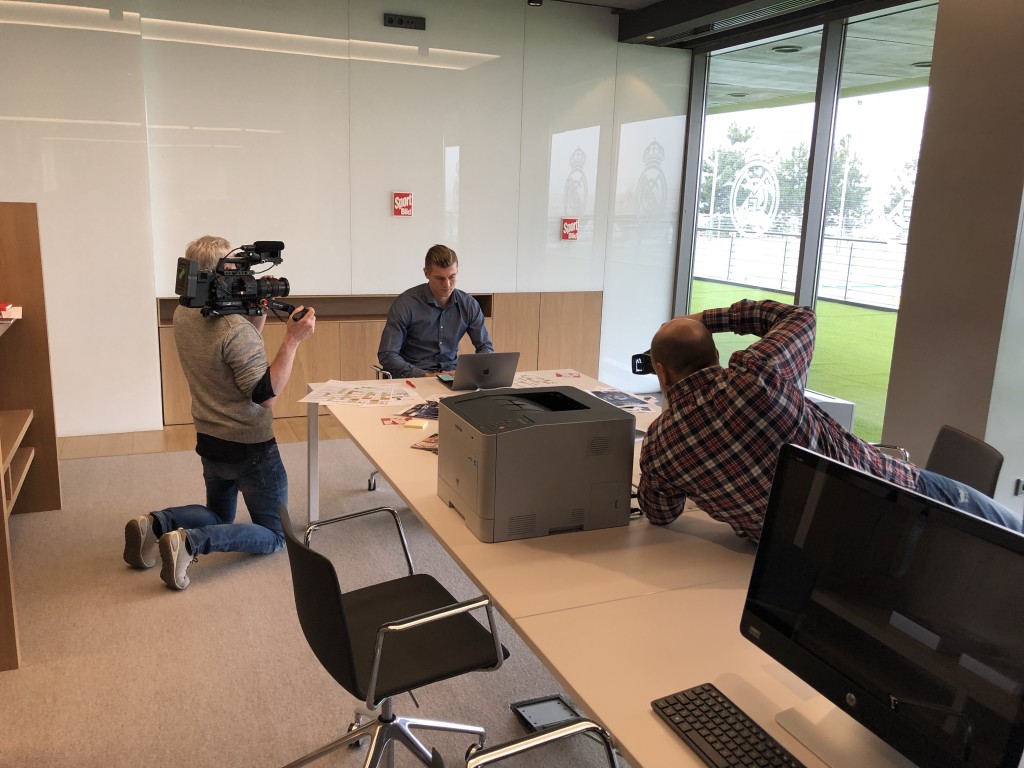 I first watch how he prepares. Away from the pitch, he is as structured as he is in a Real shirt. He articulates his ideas for the magazine clearly right from the start. Football should not dominate he says, there has to be other sports like basketball and tennis. He makes no secret of his favourites on Twitter, supporting stars like Dirk Nowitzki and Roger Federer. He also has a couple of special interview requests: Freiburg coach Christian Streich, because they play beautiful football with a small budget and Mathias Sammer, who has worked with him both with the national team as well as at Bayern. The boss will carry out these two interviews personally.
It's Monday, the fifth of February. I'm sitting in my office in Munich. At 4:07 pm I receive confirmation that there's a Face-Time-interview with Christian Streich in Freiburg tomorrow at 12:30. Oh dear I think. We have been planning this appointment for a long time but finding a date when both would be available was always a problem. Until now that is. Firstly, I check flights. Early tomorrow morning a Lufthansa flight goes to Basel which is near to Freiburg, but the flight is almost fully booked and it would cost over €1000 to get a ticket. For that price, I could fly to New York or Rio de Janeiro. So, it's going to be "Deutsche Bahn" and I'll let the train take the strain. Travelling on Thursday, the day of the interview, is too risky. What if something goes wrong when I change trains? I would arrive too late. So, it's good that I always have spare clothes and a wash bag in my office cabinet. I pack everything and catch the ICE (Inter City Express) at 5:28 pm. My colleague Nina, who reports on Freiburg for us, is catching an evening flight from Hamburg. Her air ticket isn't much more expensive than my train ticket.
Toni has already prepared a list of questions. He has made 15 points. He also lets me know that at 11 am, he will still be training with Real Madrid. The interview could start around 12:45 pm. Nina and I are preparing the interview equipment in the "Wein-Loge" of the Dreisam Stadium. Christian Streich has finished his morning session and is preparing the team meeting for this afternoon's friendly match. Reliably as ever at 12:38 pm, Toni gives the signal: We can start in ten minutes! Christian Streich receives this information as the same time. The coach seems to be very focussed when he enters the room. He seems to be thinking about this afternoon's match. But when he sees Toni on the screen, the stress is relieved. When I hear Toni asking about "changes between footballing passages and possession" or "resolute football and counter-attacking football" I know: This is an expert discussion at the very highest tactical level. Over the next half hour, us two reporters are extras. Toni is handling the interview confidently — without us.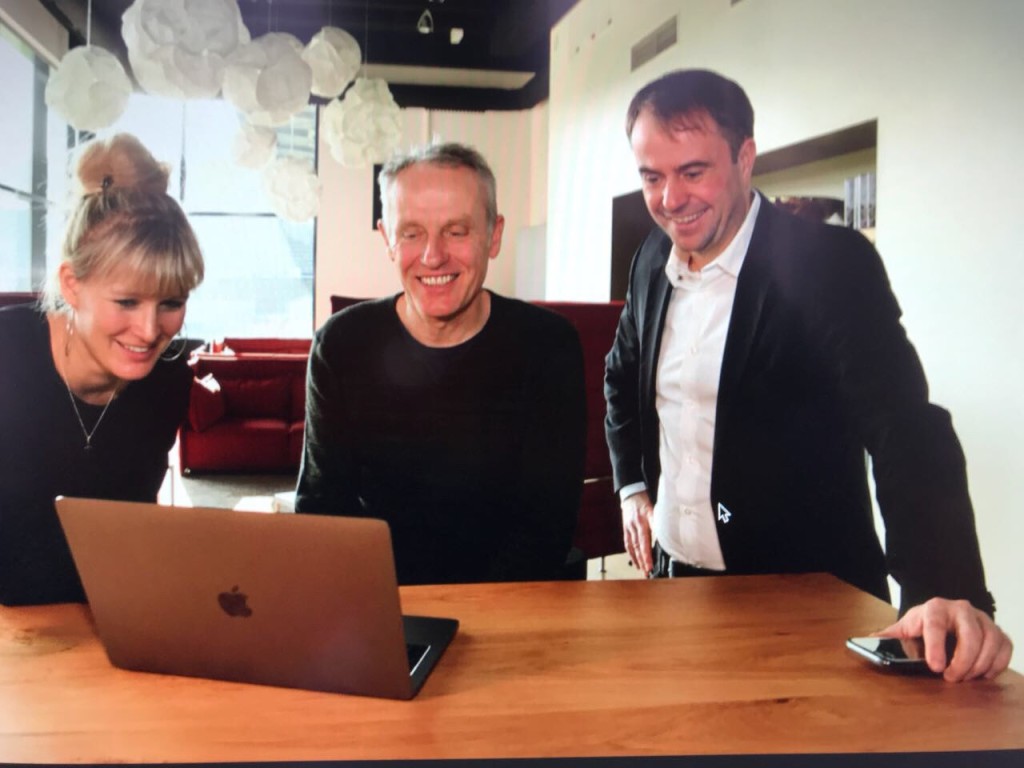 Both could probably have talked for ages but there's the friendly match coming soon. Looking at the time, Christian Streich stayed longer than he had planned. Everyone, who knows the meticulous coach, realises there must have been a special reason. In all the hurry, Streich forgot to ask Toni for a signed shirt for his son who is a big fan. Toni will send the shirt in the post!
At our second interview, the set-up is a little bit different. Editor in chief Kroos still has to give approval for the make-up of the magazine pages and some finished articles. I'm flying in especially for that, bringing the SPORTBILD office to Kroos in Madrid. But a pleasant side effect of this trip is I can watch my boss playing for Real Madrid against Paris Saint-Germain in the Champions League. Boss or not, I will assess his performance neutrally. But Kroos was one of the best players on the pitch, winning the important penalty for the equaliser at 1:1, so we did not get in any conflict for our online reporting.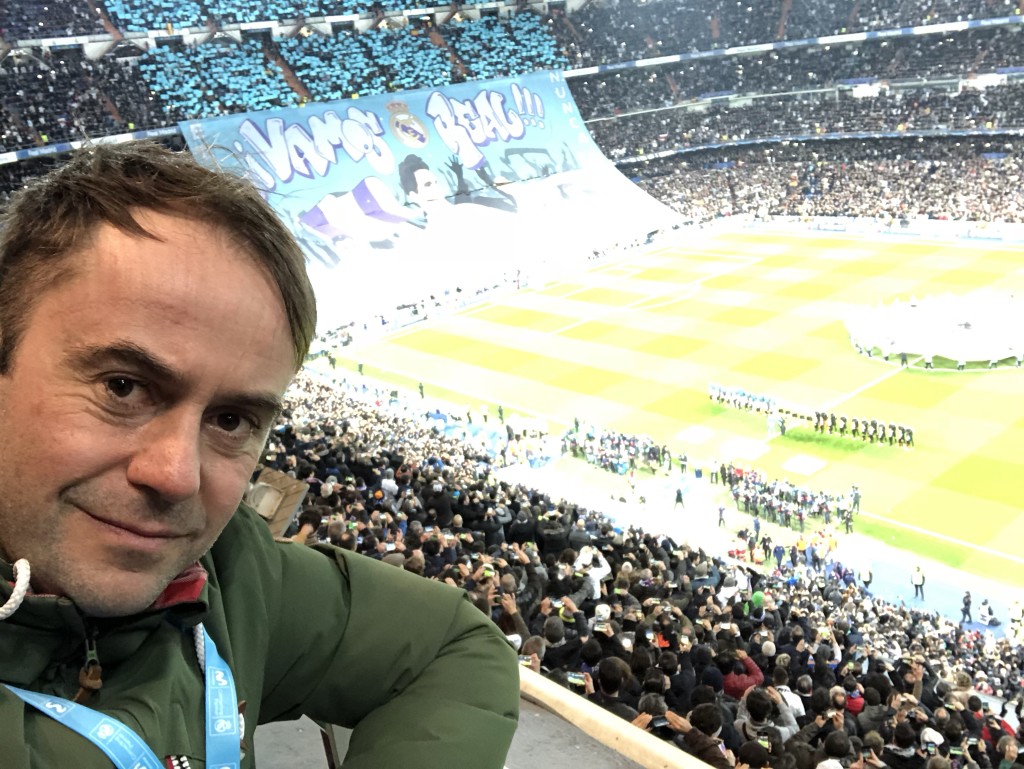 The video chat with Matthias Sammer, who is with my colleague Tobias Altschäffl in Tobi's office, should start at 1 pm. Again, after Real's training. But I am still in my hotel bed, because I was working until 1am on my match report. I get a message at 8.30am that Real has no training today, so we can start the interview at midday. Just a few hours ago, Toni Kroos had played one of the most important matches of the season, but now he is focused on the next challenge: his interview with Sammer! Boss Kroos is as efficient as German clockwork in his planning.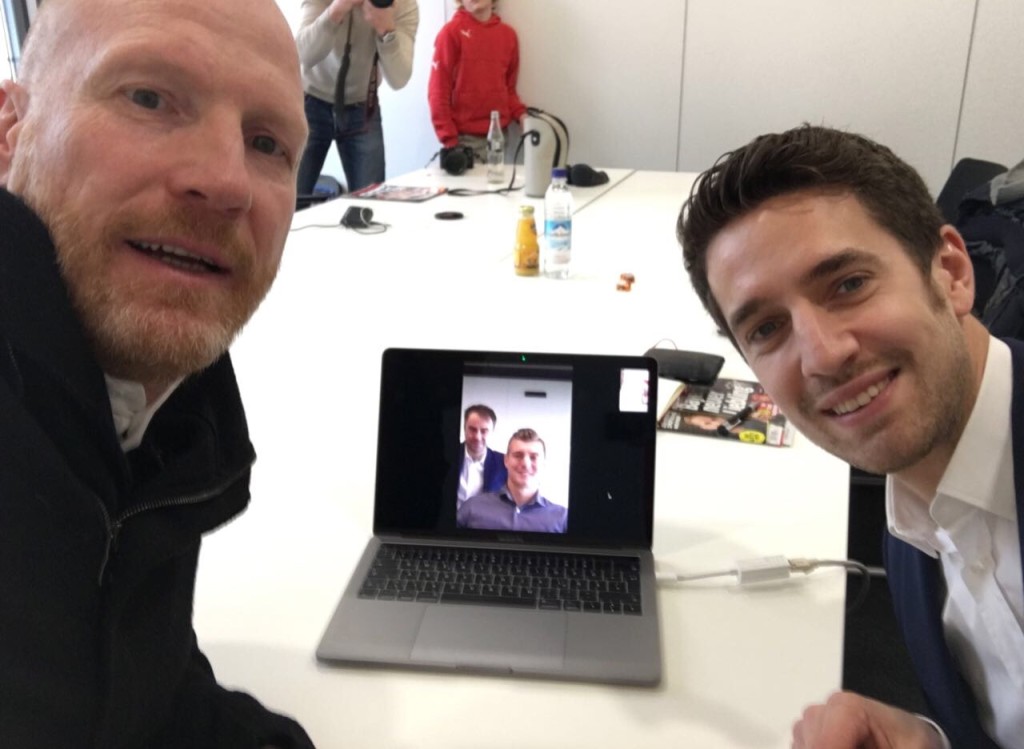 The meeting takes place at Real Madrid's training complex. Only a few journalists receive access to this area. I've been here once previously for an interview with Toni. But this time I get a "real" surprise. The press officer allows us to visit the players area – the "sacred rooms" of this facility. Obviously, Toni isn't only the boss on the pitch. On the way, I see that the players parking is arranged by their shirt numbers. Toni's car (nr 8) stands between Cristiano Ronaldo (nr 7) and Karim Benzema (nr 9). It's funny to imagine the tired stars saying "Good morning!" to each other every morning at training – just like normal work colleagues.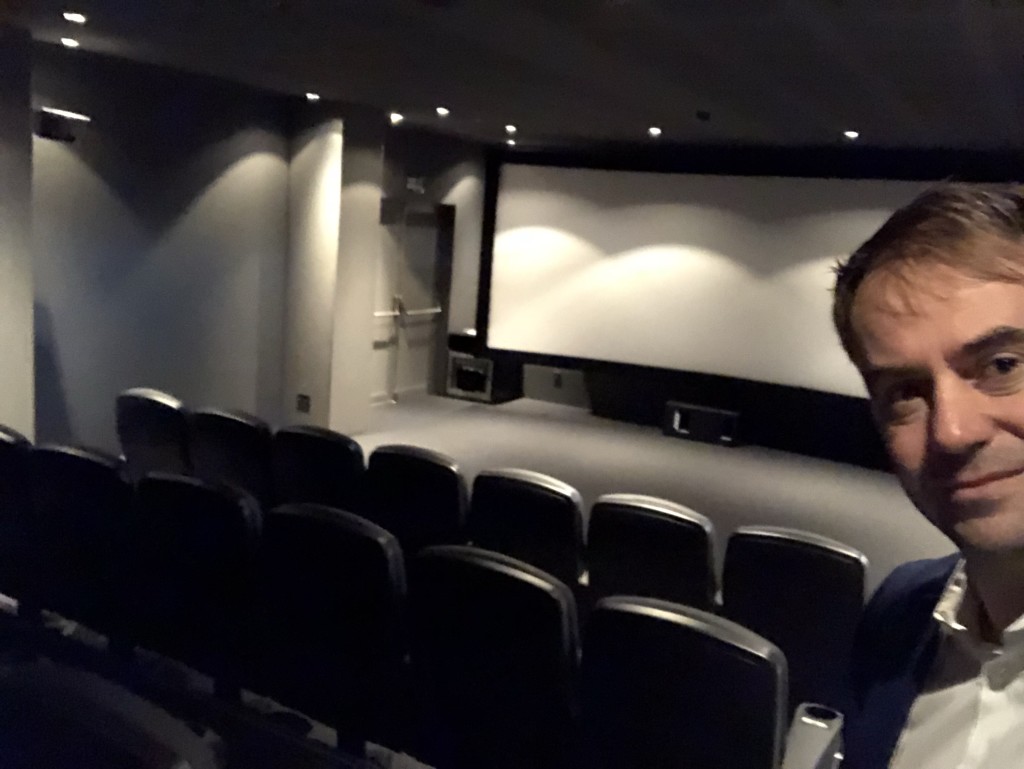 We set up our office with a view on the training pitch. Next door, the Real stars have a private cinema and behind that there's many different things like a pool table, a basketball hoop, a table tennis table and a motor racing simulator. But the photographer, cameraman and myself, we are all here to work. Toni is punctual. "Fully rested?" Sammer asks his former player. By his own experience, the former "European Player of the year" knows only too well that after such an intensive match like Kroos had last night in the Bernabeu, it's very difficult to just think about sleeping. Immediately, they started to analyse yesterday's match. Both agree that the game changer were Zidane's substitutions. Kroos stresses that not every coach would have had the courage to take off his central defensive midfielder and bring on another offensive player when you are drawing 1-1. Kroos' analysis is that Zidane relied , an upon this same formation which brought them a four-goal lead against Real Sociedad and Sammer agrees. He concludes that experience won the match and not money. The pair were far too absorbed in their conversation, so they didn't realise we had visitors. Emilio Butragueno was first, Real's former vice-president and attacking legend. "Does Toni have an interview? I don't want to disturb," he says and leaves straight away. Moments later, Gareth Bale peeks behind the door. When the Welshman sees the magazine's pages with the SPORTBILD logo on the walls, he looks at me questioningly and also leaves. Who knows, maybe the editor in chief, Toni Kroos, would have started to interview him too??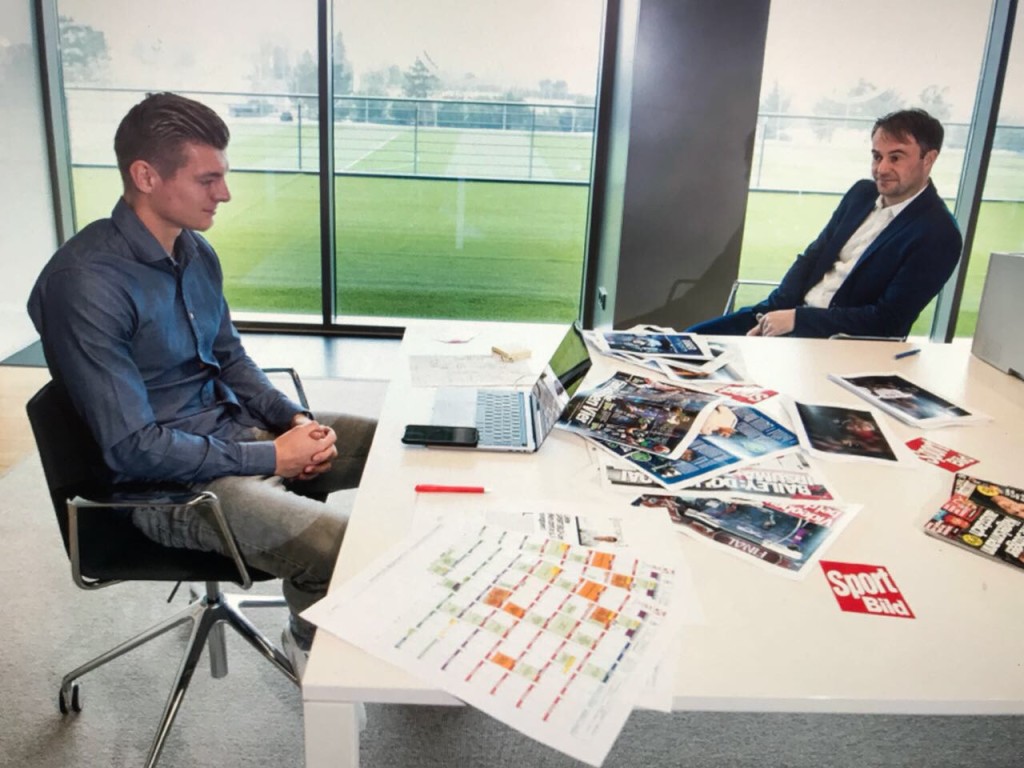 After this conversation, we still have to discuss the magazine's pages, his editorial und Toni also writes comments on some articles by hand. At the end, I thank my boss and say goodbye: "Working for you, was a lot of fun! What a pity that we can't buy you out from your contract with Real Madrid for a permanent deal at SPORTBILD. Sitting in the taxi, I check Toni's reported transfer fee. According to Transfermarkt.de, it would cost us €80milllion. I can ask the publishing house…