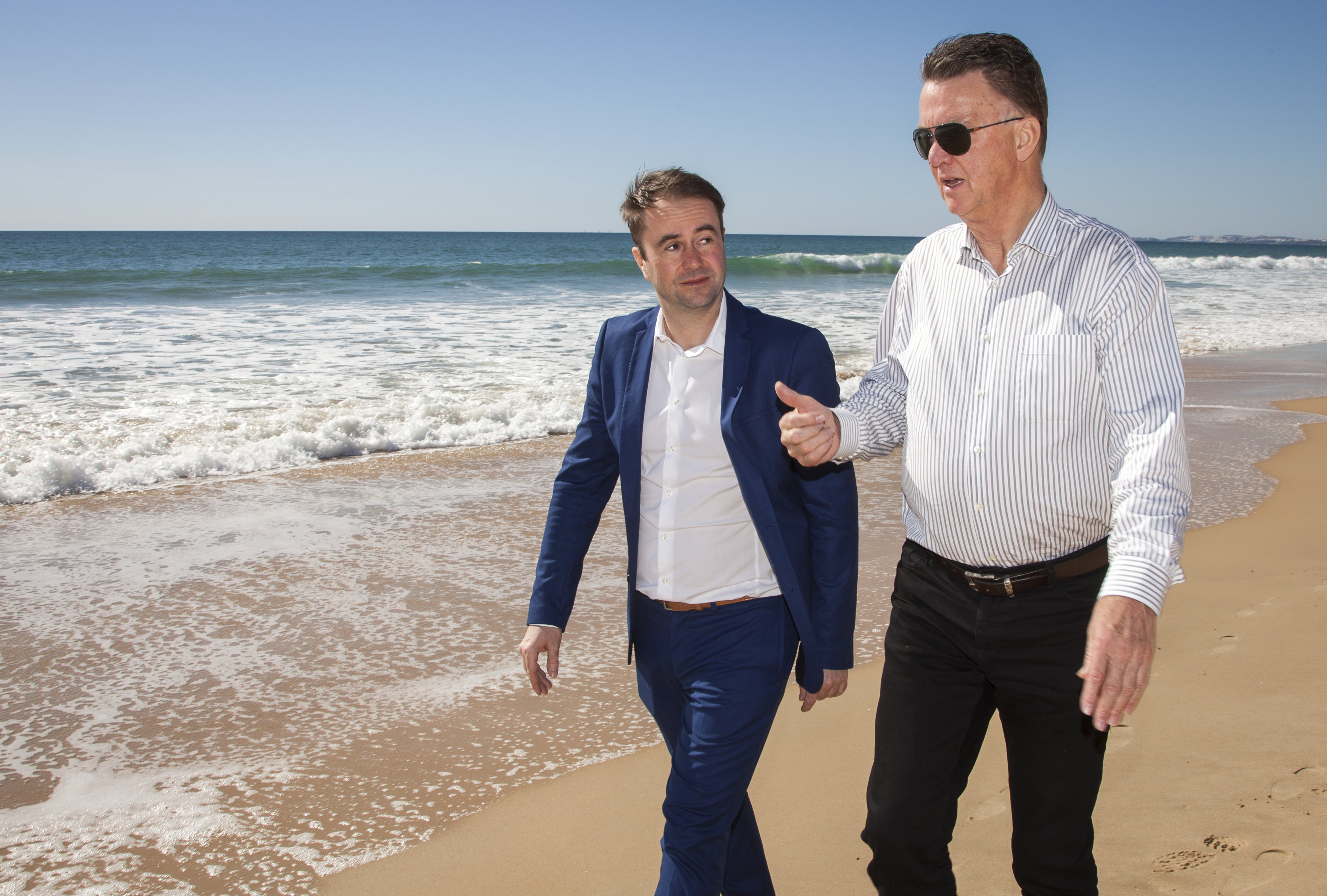 04 Mar

Portugal-Trip to Louis van Gaal

These days, a mobile phone ringtone says a lot about its owner.

So, I am only briefly taken by surprise by the classic "Riffs "when Louis van Gaal's mobile rang at the end of our two-hour interview. It's the Muddy Waters guitar and I have to smile when I recall the lyrics of the song "Mannish Boy." Waters sings in the opening: "My mother told me, I'm going to be the greatest man on earth!"

Yes, the song fits perfectly to Louis van Gaal's self-image. Whatever your opinion of Louis van Gaal: He is one of the greatest coaches in the world. And that is exactly why I am flying for three hours from Munich to the Algarve — on the coast of Portugal. I want to interview him and find out if he is serious about his retirement.
A sports journalist needs two attributes most of all: patience and tenacity. Everyone who wants to talk to Louis van Gaal needs a great deal of both. But you also have to know another thing about Louis van Gaal: he is a man of his word — If he promises something, he will keep his word. You just have to be persistent.
I last interviewed Louis van Gaal in October 2012, when he was still Netherlands national team coach. The next interview I asked for was in the summer of 2014, immediately after he took charge of Manchester United. But United's press officer wasn't interested in giving any German media a chance to talk to their head coach. Not even the English media were allowed. After his sacking in May 2016, I contacted him again, but the former Bayern coach was taking a sabbatical and not giving any interviews. Just a few days after the official end of his United contract, I contacted van Gaal again, who was amused by my perseverance. In fact, he is officially an old-age pensioner since the 1st of July, but he lets me know that he first wants to talk to the Dutch journalists and ask for my understanding. "New year, new luck", I start in my mail to van Gaal at the beginning of January – and, three and a half years later, he agrees. He confirms the date very quickly: "1 pm, reception, Vale do Lobo Resort."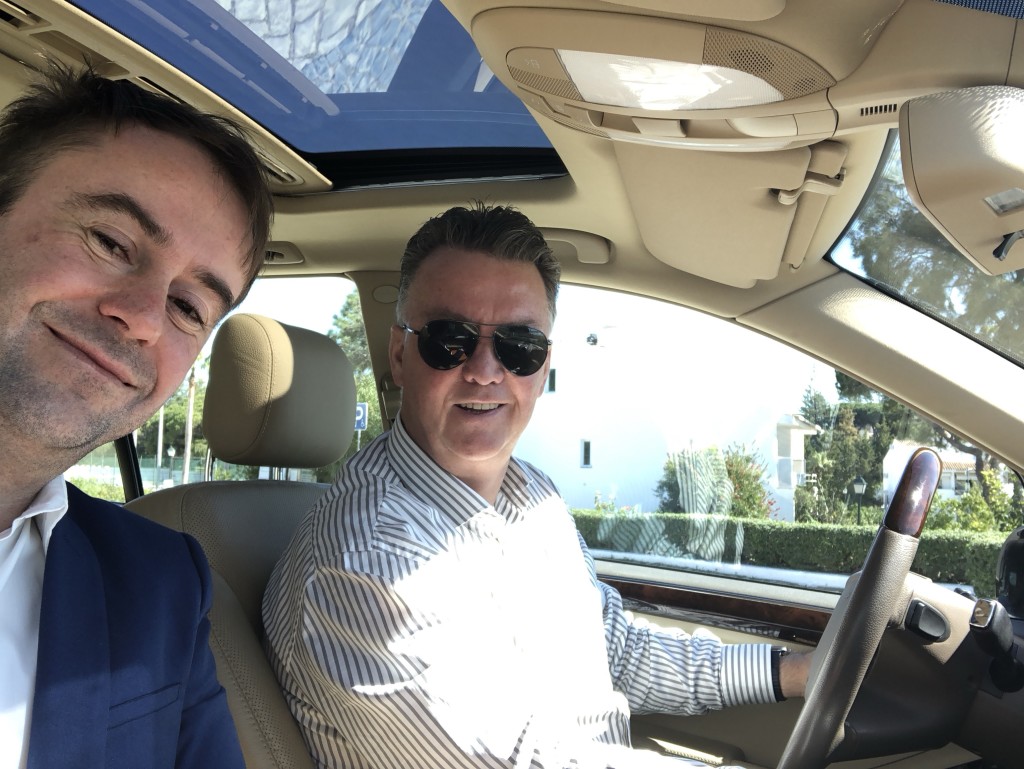 He bought a villa here in 2008 and has since made his home in Portugal. I know this resort, because I watched several games on a big screen here during the 2004 European Championships. I was reporting on the German national team, who were staying only a few kilometres up the road near Faro. Van Gaal picks me up and drives from reception to the restaurant, where we do the interview. On our way, he tells me that he discovered this restaurant, just like me, during the European Championships that summer. Together with his wife, he is now enjoying retirement on the Algarve coast. But will we ever see Louis van Gaal coaching again? Recently, Wolfsburg were interested, I start the interview…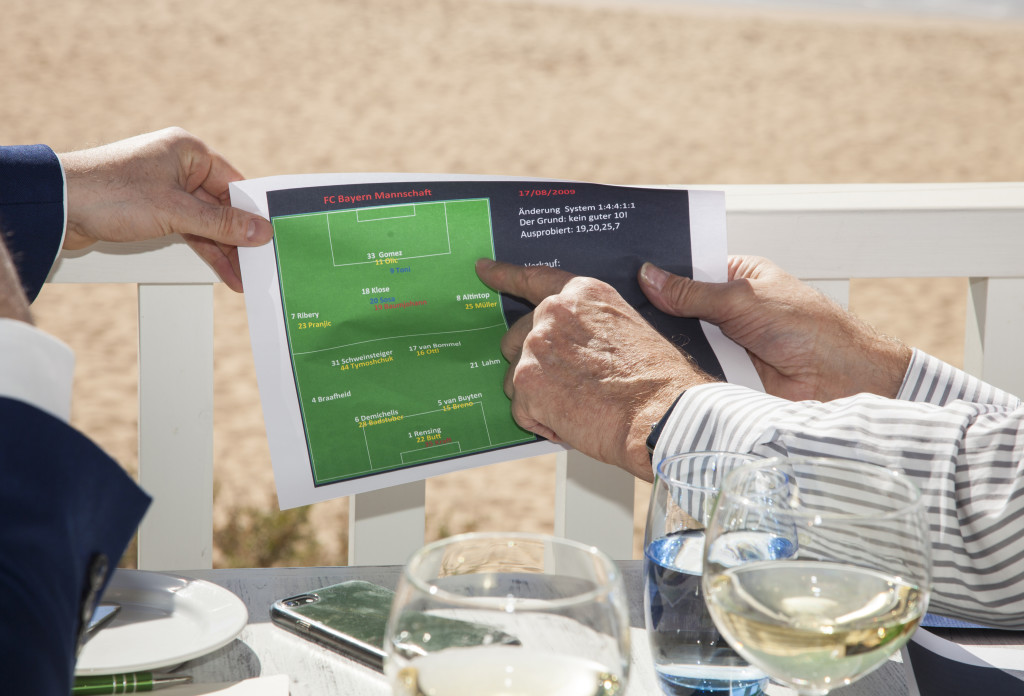 "I received several offers from the Bundesliga, not only from Wolfsburg. Back then I said no. But that doesn't mean it will always be this way. I need a club that is a challenge.", van Gaal answers, while we're looking at the ocean from his favourite restaurant "Sandbanks". Just like his time at Bayern, we are drinking white wine and not red. "After all, we are eating fish.", van Gaal says when I remind him of the red wine anecdote from Munich.
A club which interests van Gaal, I ask myself? He has said that he won't go back to Bayern Munich. He even rejected an invitation to Uli Hoeness's 60thbirthday party. "He invited me, but after everything that has happened, I didn't think I had to attend."
Actually, there aren't many clubs which would still be a challenge for a coach like Louis van Gaal, who has always won titles everywhere he has coached. "Maybe Borussia Dortmund?", I suggest. He really thinks deeply before replying: "Dortmund have never made an inquiry…yet. "
He continues: "What I can say about Borussia Dortmund: They have enough quality in their team to be Bundesliga champions and a strong opponent to Bayern."
That sounds to me like a real challenge for a guy like van Gaal…