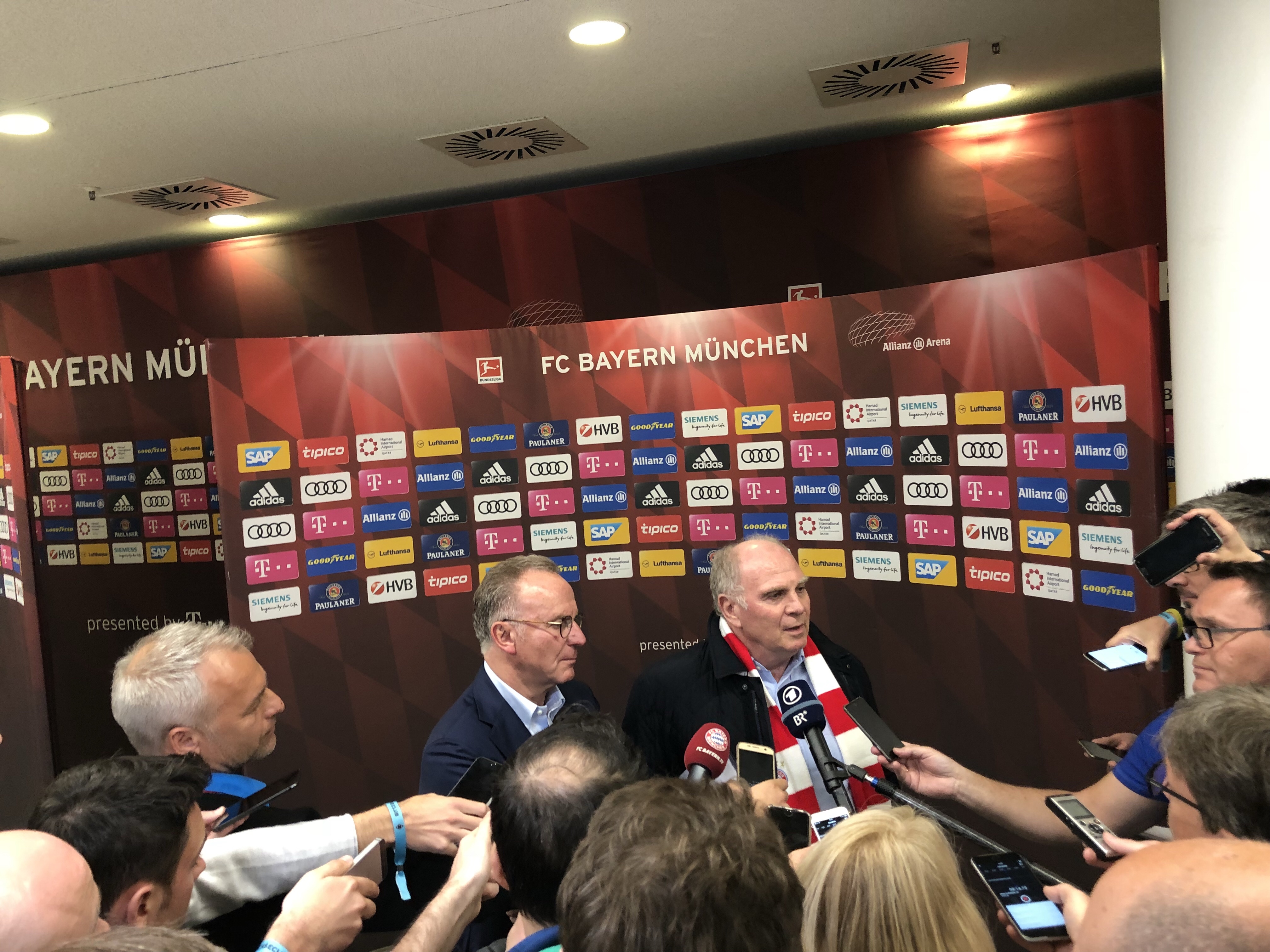 23 Apr

The story behind the Breaking News to Kovac and Tuchel

When a person asks me what it is like to be a sports reporter, I like to answer: It feels like a never-ending school trip! Some things are compulsory but you enjoy new experiences and often get to know a lot of new people and it's always fun! And if you are lucky, some of your best friends hit the road with you. That's important, too: even though I'm only writing about myself here, behind every story, every interview and every news story, there is a team. Just like football, journalism is a team sport…

I am sitting in Madrid writing these lines, and an appointment for the preliminary reports on the big Champions League match against Real Madrid next week. After all, it is time to concentrate just on football again. But before we could do this, there were a few important questions about Bayern's future which needed answering.

At the end of March, I flew to Berlin along with the national team after playing Spain in Dusseldorf. There's three days until the match against Brazil in the Olympic Stadium. I have my week's holiday in Amsterdam in sight when I receive confirmation of this week's investigation: Thomas Tuchel has refused Bayern's offer!

My first thought: Will I wait to first publish the news in SPORT BILD magazine on Wednesday? Too big a story, too important, too many people involved – those are my thoughts in this moment and it's obvious. We have to publish it immediately! Luckily, our publisher has many magazines, so stories can be published very quickly. Sitting in the sun, I have a beer at the "Gendarmenmarkt" and finish eating my Currywurst. Immediately after I head to Springer HQ in Berlin. There is no doubt: The Tuchel story has to be in "BILD am Sonntag."

The lead is written very quickly and it has to be because BAMS will soon go to print. But in our digitalized world that wasn't the end of the day. At 10pm we want to report about it. To wait for this moment is literally hell for reporters. Is the story still going to be an exclusive? Are any other newspapers going to break the story before us? I decide to go to a concert to think about other things. On his way home, my colleague Walter drives to a Berlin nightclub, called "Gretchen", where Amy Shark is playing that evening. Then I wait at the bar. The mostly unknown Australian Indie singer gives an encore with her hit "Adore", when I click on the button of my IPhone display. It was exactly 10pm, when I tweeted: Tuchel turns down Bayern+++ He will move to an international top club +++ After that I order my last beer (a Bavarian one!), as the venue gets emptier and emptier.

As you can imagine, the next few days are very turbulent. The next morning, I do a live video chat with "Doppelpass" TV program on this breaking news. Right after that I have an appointment for an interview in the German team hotel Hyatt. My interview partner was a good fit for this moment. Paris Saint-Germain goalkeeper Kevin Trapp –Tuchel's next club. Of course, we talk about the German coach and a Sport Bild background story on Tuchel has to be written by Monday evening.

Tuesday is matchday: Germany against Brazil. As a sports reporter you are allowed to fulfill some crazy ideas. Two weeks ago, during my time in Liverpool, I sang the "Salah! Mané! Mané!"-song together with Sadio Mané and put it on all our channels and even YouTube. There is a line which says "But we sold Coutinho"and that's not so bad because of the Salah, Mané and Firmino trio. After the Brazil match I showed Coutinho the video, but he wasn't too impressed by the song (although they have just won 1:0). Filmed by a colleague, Coutinho walks quickly past me. On YouTube I get 300,000 views for his reaction. The furious 3:0 victory of Klopp's Liverpool-trio (without Coutinho) over Manchester City with Pep Guardiola, I will see during my Amsterdam vacation in a pub…

Of course, I'm not able to simply not work during my free time so I do a little bit of research. Who is going to be Bayern's next coach is a question of major interest to me. But I don't make any progress. On the second day after my holiday, FC Bayern play the return leg against Sevilla in Munich. Before the match, Scandinavian-TV interview my BILD colleague Jörg and I. Jan Aage Fjortoft, a former Eintracht Frankfurt player is now a TV reporter , asks me about the new Bayern coach and I have to be honest on Live-TV: "We don't know who it is going to be and we are not even sure, if the club knows who it is going to be." Just 24 hours later, this changes….

"Kovac will be the new Bayern-coach"is the BILD headline on Friday morning. How we found that out on the Thursday, will remain our secret, forever. But there is one thing I can definitely rule out. The idea that one of the Bayern bosses calls and says: "Mr. Falk, I want to tell you who our new coach is!" – something like this doesn't happen in the real life of a reporter. I point this out it for all of those, who doubt it (Fredi Bobic, etc.): FC Bayern did not give us this information. The rest is protecting our sources.

Something I can say is though that when BILD and SPORTBILD published the news at 9:30pm on Thursday evening, my colleague Tobi and I were in the Zenith concert venue in Munich, listening to former Oasis singer Noel Gallagher. We were drinking a cold beer (I was tweeting during "In the heat of the moment"). Gallagher put up a Manchester City flag over a box. His favourite club did not reach the Champions League semifinals and at the end Gallagher shouted into the microphone: "Good luck in the Champions League, Munich!" A good line. From now on we can report on football again.