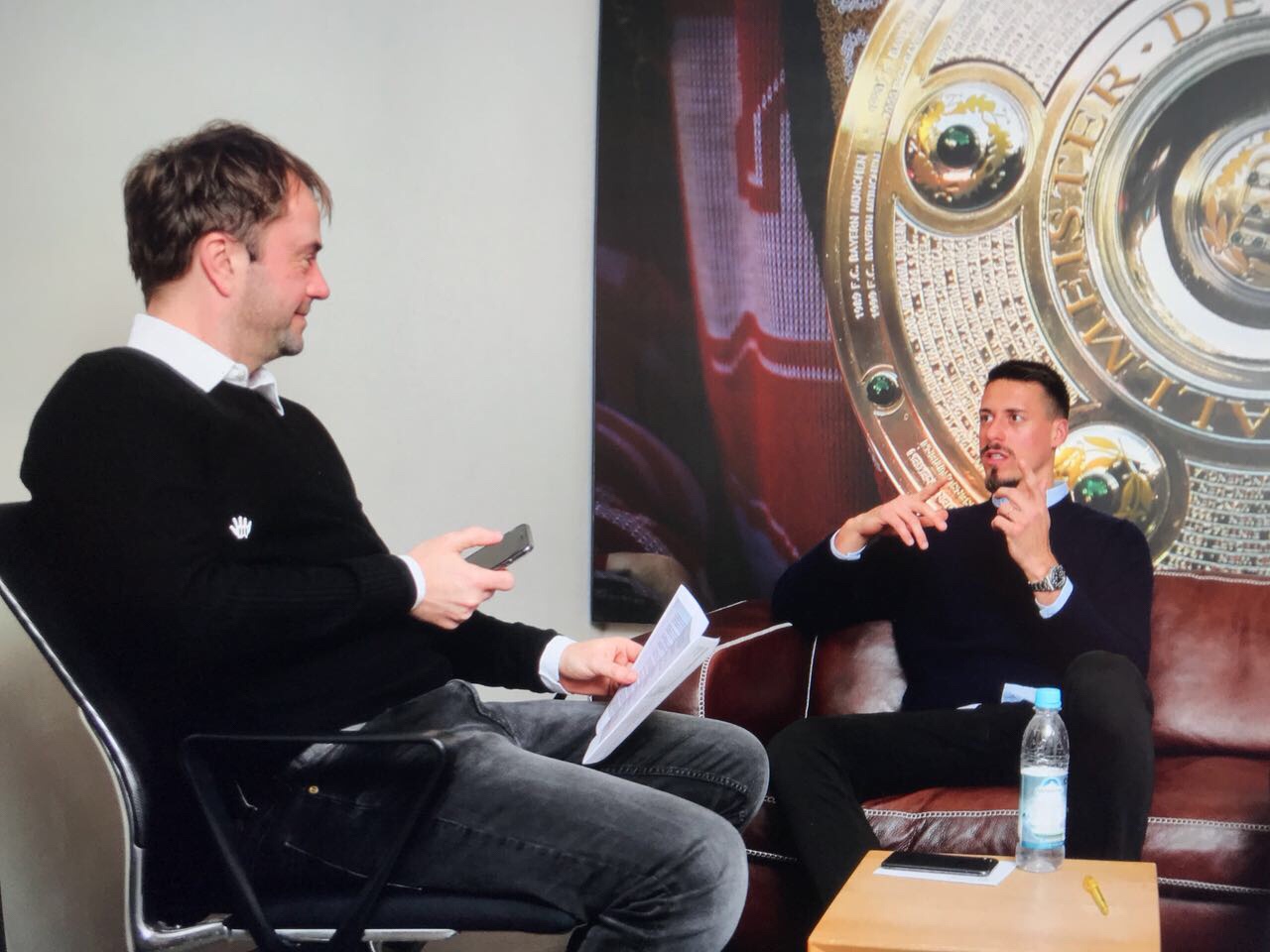 30 Jan

Sandro Wagner unplugged at interview

Sandro Wagner smiles on entering the interview room at Sabener Street for his first exclusive interview since his transfer from Hoffenheim to Bayern Munich. "So, this is how we finally meet again! "he welcomes me, before talking to my colleague Tobias Altschaffl, who is eight years younger: "You were a reporter back then. I don't know everyone by name yet – but I never forget a face!" 

That first meeting came in 2007/2008 and ten years on, you can see how proud Sandro Wagner is to return to the record German champions. "This has always been my target," he says self-confidently.

Wagner was born in Munich and started playing for Bayern with the age of seven. He was 19 when he had his first chance to fulfill his dream: the young forward trained together with big names like Miroslav Klose, Luca Toni and Lukas Podolski. "And of course Jan Schlaudraff who was able to play as "false nine"", he adds. The coach, Ottmar Hitzfeld, described Wagner as so called "Wandspieler" (a translation could be "Wall-Player"). This is a forward who turns his back to the defender when he gets the ball, when he handles the ball and also when he passes it back to a midfielder. He still has that image. But after his first match with his new coach, Jupp Heynckes said to Wagner that he isn't a forward who waits for the ball anymore. He works a lot in the defense. That for he worked his whole career.

After eleven years in Munich he tried his luck at Duisburg, Bremen, Kaiserslautern, Hertha BSC, Darmstadt and Hoffenheim. Six clubs in ten year. While tried to get a good Bundesliga-professional he had to watch how his U21-European-champion-colleagues Neuer, Boateng, Hummels, Höwedes, Khedira or Özil celebrated their successes with the national team. Two months after winning the title 2009 in Sweden he did not have luck: he had a bad injury on his knee. "Because of that I lost one and a half year. For a young player, this is a very difficult situation", Wagner remembers. Most of us didn't think that we will see Sandro Wagner playing for Bayern ever again. For a long time Wagner was probably the only one who thought so.

Now the forward is the one who takes the initiative and puts us journalists in front of the mirror. As we are going to see, he is absolutely right. As journalists, who report about Bayern, we would only see the best of the best every day at the training. Wagner says that there is also another world in football, it's called: the midfield of the Bundesliga. Not looking on the name, the level there is very high, too! To complain about being "normal Bundesliga–player" is whining on a high level. So emotional how Wagner is arguing, there is no question: Also if he never came back to Munich he would be very happy with his career.

But his detour to FC Bayern brought him more than he maybe thought. In his way of playing as in character.