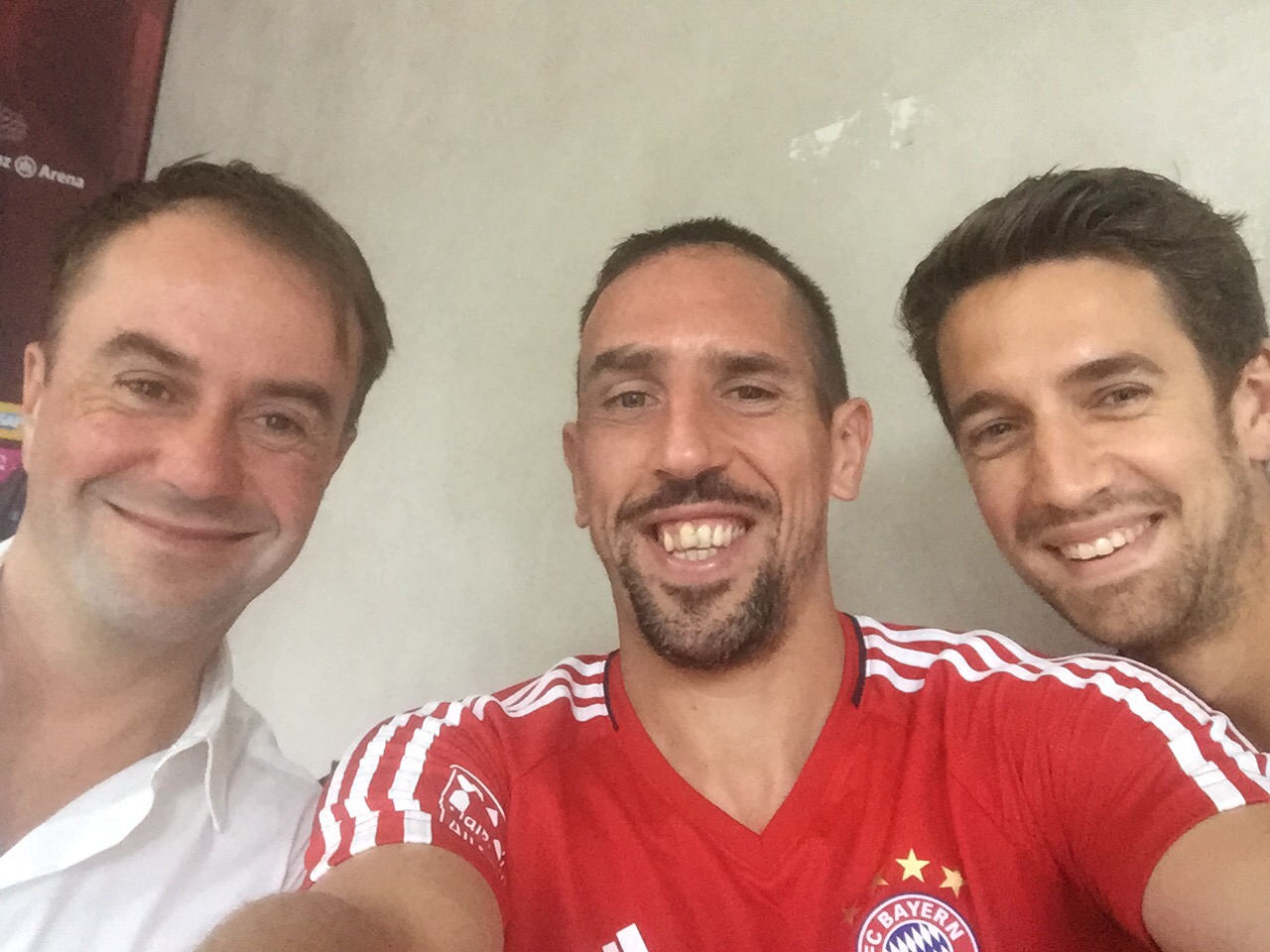 18 Jul

This is Franck Ribéry privat at interviews

It is like a reunion with a classmate at the beginning of a new school year. Frank Ribéry dangles in his Adiletts to the interview. He is the first one tu put a question: "So? How was your summer ?"

It's nice to see that there players who are interested in the life of reporters who follow him and his a career since a long time. Franck and me, we know each other for ten years now. For a foto-shooting I have put him into traditional bavarian leather pants, before FC Bayern had the chance to do so. He poured a whole bucket of water over my head from the roof of the training center. But I was only a test object. The real target was Oliver Kahn who left the changing room after me and who had to change clothes again.

How my summer was? I told Franck about experiences and impressions from the Confed Cup. "Russia is a beautiful country", says Franck and I ask myself if the frenchman knows the pop song "Moskau" from Dschnghis Kahn. Actually you can always find Leslie Mandoki inside of the Bayern-VIP-Lounge in the Allianz Arena. Instead of talking about the Eurovision Contest our topic is the UEFA-Cup and the 0:4 semifinal defeat of Ribéry with Bayern in 2008 in Saint Petersburg. Now we are right in the middle of the subjects football and the age!

"I am an old man", Franck jokes and stretchs demonstrativaly his legs and arms. That is why he has done many things for his body. While his colleagues are relaxing on the beach, he cycles to the Säbener street und does some Aqua-Jogging in the pool. He paused in the friendly matches. "I didn't want to takes any risks, but everything is good", Franck makes sure. In the past I he also prefered cruising with the Jetski at the coast of Ibiza. "In school, my children have a very important phase, so it's not possible to go on vacations", describes father Franck. Thatfor he has trained nearly every day in a time span of three weeks.

Now somebody beeps and discuss in front of the door. Francks brother arrived with the Audi which Franck got from Bayern and he is talking to a friend of the family. Franck puts his head out of the window. He is turning back to me grinning: "That's crazy ! They are really talking german ! My whole family does so." He shakes his head. "Who had thought so some years ago… ?"

Franck is more Mia-San-Mia than the most professionals in the clubs, even more than the most of the Germans. Only Thomas Müller is more Mia-San-Mia, but thats because of his birthright. During our conversation, I recognize how much the Frenchman loves the FC Bayern. This season should not be his last one, but could. Ribéry still wants to play! Wants to play more! Douglas Cost already fled to Turin, because he was not able to pass that Ribéry. Serge Gnabry left Bayern to go to Hoffenheim on loan, just after he joined Bayern. Kingsley Coman is probably going to fail on the world class of Franck Ribéry. When he is fit, nobody can beat him. But it still could be his last season for FC Bayern. In the end, Carlo Ancelotti is the one who decides.

I would miss something, if Franck wouldn't welcome me, after the summer break 2018, with the words: "And? How was your summer?" I think the Bayern fans think so, too. If not even the whole league.